SAFETY DATA SHEET
Lugol's Iodine
1. IDENTIFICATION
Product Identifiers
Product Name:
Lugol's Iodine
Other Names:
Lugol's Iodine
Product Number(s):
AGK - LUGOL'S IODINE
CAS Number:
N/A
Recommended use of the chemical and restriction on use
Laboratory use only
Company Details
ProSciTech Pty Ltd
11 Carlton Street
KIRWAN QLD 4817
Australia(07) 4773 9444www.proscitech.com
Emergency Contact Details
ProSciTech Pty Ltd
11 Carlton Street
KIRWAN QLD 4817
Australia(07) 4773 9444www.proscitech.com
2. HAZARDS IDENTIFICATION
Classification of the substance or mixture
Eye Damage/Irritation: Category 2A
Skin Corrosion/Irritation: Category 2
Label Elements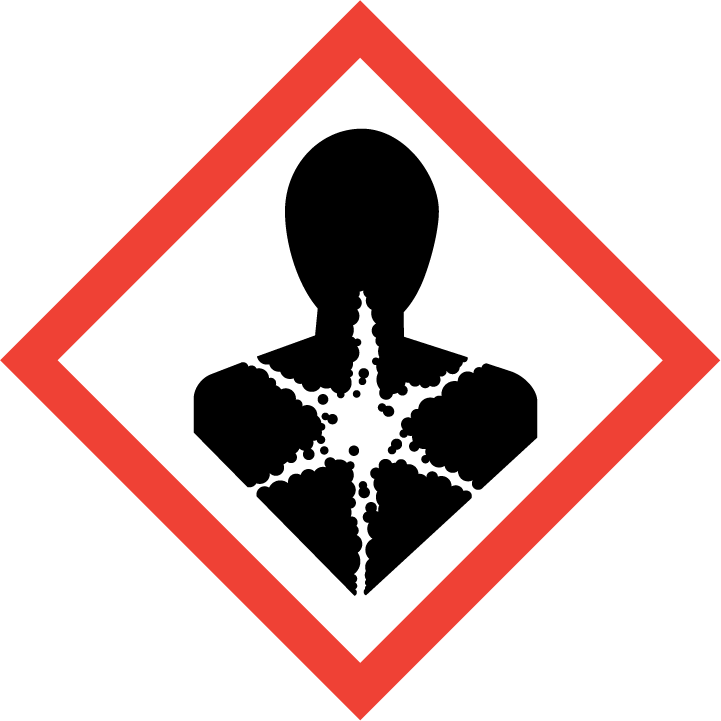 Signal Words
Warning
Hazard Statement(s)
H306+H362: May damage fertility or the unborn child
H333: May be harmful if inhaled
H371: May cause damage to the central nervous system and the visual organs
H373: May cause damage to organs through prolonged or repeated exposure
H402: Harmful to aquatic life
Precautionary Statement(s)
P260: DO NOT breathe dust/fume/gas/mist/vapours/spray
P263: Avoid contact during pregnancy/while nursing
P304+P312: If inhaled, call a poison center/doctor if you feel unwell
P405: Store locked up.
P501: Dispose of contents/container to an approved waste disposal plant
Primary route(s) of entry
Not available
Human Health
Inhalation:
Not available
Ingestion:
Not available
Eyes:
Rinse cautiously with water for several minutes. Remove contact lenses, if present and easy to do so. Continue rinsing
Skin:
Wash with plenty of soap and water. If skin irritation occurs: Get medical advice/attention
Environment
Dispose of contents/container to an approved waste disposal plant
3. COMPOSITION/INFORMATION ON INGREDIENTS
Name
CAS No.
Content (w/w)
Classification
Acetic Acid
64-19-7
10%
Hazardous
Potassium Iodine
7681-11-0
10%
Hazardous
Iodine
7553-56-2
5%
Hazardous
Water to make a total of 100%
7732-18-5
4. FIRST AID MEASURES
Ingestion
Rinse mouth thoroughly with water immediately. DO NOT INDUCE VOMITING. Seek medical advice if effects persist.
Inhalation
If inhaled, remove from contaminated area to fresh air immediately. Apply artificial respiration if not breathing. If breathing is difficult, give oxygen. Immediately obtain medical aid if cough or other symptoms appear.
Skin Contact
Wash affected areas with copious quantities of water immediately. Remove contaminated clothing and wash before re-use. Seek medical advice if effects persists.
Eye Contact
If contact with the eye(s) occurs, wash with copious amounts of water for approximately 15 minutes holding eyelid(s) open. Take care not to rinse contaminated water into the non-affected eye. Seek medical attention. If rapid recovery does not occur, obtain medical attention.
Other Information
Maintain eyewash fountain and safety shower in work area. Treat symptomatically based on judgment of doctor and individual reactions of the patient. For advice, contact a Poisons Information Centre or a doctor.
5. FIREFIGHTING MEASURES
Suitable extinguishing equipment
This product contains a substantial proportion of water therefore there are no restrictions on the type of extinguishing media which may be used.
HAZCHEM
Use measures suitable for extinguishing surrounding fire
Special protective equipment and precautions for fire fighters
Material does not burn or will not propose an explosion risk
6. ACCIDENTAL RELEASE MEASURES
Personal precautions, protective equipment and emergency procedures
Wear protective clothing specified for normal operations.
Environmental precautions
Prevent from entering into drains, ditches, rivers or the sea.
Methods and materials for containment and clean up
Dilute the water and mop up, or absorb with an inert dry material and place in an appropriate waste disposal container.
7. HANDLING AND STORAGE
Precautions for safe handling
no specific measures
Conditions for safe storage
Store in a cool, well ventilated area, out of direct sunlight. Keep containers closed when not in use. Store in original container.
8. EXPOSURE CONTROLS/PERSONAL PROTECTION
Exposure Standards
Material
TWA ppm
TWA mg/m3
STEL ppm
STEL mg/m3
Engineering controls
Maintain concentration below recommended exposure limit. Local exhaust ventilation system may be required.
Personal protective equipment
Eye and face protection
The use of a face shield, chemical goggles or safety glasses with side shield protection as appropriate. Must comply with Australian Standards AS 1337 and be selected and used in accorded with AS 1336.
Skin protection
Hand protection should comply with AS2161, Occupational protective gloves - Selection, use and maintenance.
Body protection
Final choice of personal protective equipment will depend on individual circumstances and/or according to risk assessments undertaken. Wear suitable protective clothing and gloves to prevent skin contact.
Respiratory protection
Respirator not normally required
9. PHYSICAL AND CHEMICAL PROPERTIES
General information
Appearance
Dark brown liquid
Odour
Mild characteristic odour (vinegar and iodine)
pH
Not available
Vapour Pressure
Not available
Density
Not available
Boiling Point
Not available
Melting Point
Not available
Solubility
Not available
Specific Gravity of Density
Not available
Flash Point
Not available
Flammable (Explosive) Limits
Non combustible material
Ignition Temperature
Not available
Formula
Not available
10. STABILITY AND REACTIVITY
Reactivity
Not available
Chemical stability
Stable under normal use conditions
Possibility of hazardous reactions
No significant quantities of decomposition products are expected at temperatures normally achieved in a fire.
Conditions to avoid
Not available
Incompatible materials
Strong reducing agents
11. TOXICOLOGICAL INFORMATION
Acute effects
No adverse health effects expected if the product is handled in accordance with this Safety Data Sheet and the product label. If mishandled or overexposed to this product the following symptoms or effects may occur.
Eye contact
Causes serious eye irritation
Skin contact
Causes skin irritation
Ingestion
May cause gastric irritation
Inhalation
Inhalation of vapour may cause irritation to the mucous membranes and respiratory tract.
Toxicity and irritation
Chronic exposure may cause insomnia, conjunctivitis, inflammation of the nasal mucous, bronchitis, tremor, rapid heart beat, and weight loss.
12. ECOLOGICAL INFORMATION
Ecotoxicity
No ecological data available for this product. No ecological problems are expected when the product is handled and use with due care and attention.
Persistence and degradability
No ecological data available for this product.
Bioaccumulative potential
No ecological data available for this product.
Other adverse effects
Do not allow product to enter drains, waterways or sewers.
13. DISPOSAL CONSIDERATIONS
General information
Whatever cannot be saved for recovery or recycling should be disposed of according to relevant local, state and federal government regulations.
14. TRANSPORT INFORMATION
ADG label required
HAZCHEM
Use measures suitable for extinguishing surrounding fire


UN Number
Proper shipping name
Transport hazard class
Void
Packing group
Environmental hazard
Special precautions for users
Additional information
Not classified as a Dangerous Good according to the Australian Code for the Transport of Dangerous Goods by road and rail.
15. REGULATORY INFORMATION
Poisons Schedule Number
Not scheduled
Other Information
All of the significant ingredients in this formulation are compliant with NICNAS regulations. Not listed under WHS regulation 2011, Schedule 10 - Prohibited carcinogens, restricted carcinogens, and restricted hazardous chemicals.
16. OTHER INFORMATION
SDS preparation date
18 August 2022
Comments
This Safety Data Sheet (SDS) has been prepared in compliance with the Preparation of Safety Data Sheets for Hazardous Chemicals Code of Practice February 2016. It is the user's responsibility to determine the suitability of this information for adoption of necessary safety precautions. The information published in this SDS has been compiled from the publications listed in Section 16: to the best of our ability and knowledge these publications are considered accurate. We reserve the right to revise Safety Data Sheets as new information becomes available. Copies may be made for non-profit use.


... End of SDS ...